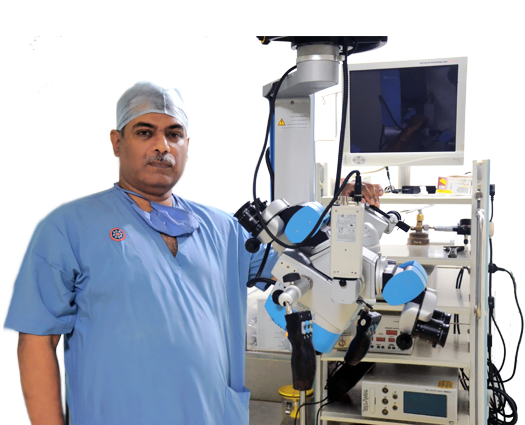 Dr. S.C Bantwal
Born on 14th October 1961 into one of Mangalore's most illustrious families Prof. S. C. Bantwal, fondly called 'Sai' or Saihl by close friends, is the eldest son of Late of Dr. C. K. Bantwal, a famous Cancer Surgeon and Mangalore's second Mayor who rubbed shoulders with the Gandhi family as well as the elite of Bombay and Mangalore.
From a very early age Dr. S. C. Bantwal immersed himself into helping others, working for flood victims through UNESCO, Organizing blood donation camps and conducting medical camps in South Karnataka and Kerala. A bright student, he also excelled in many extra-curricular activities having represented Karnataka in the National Rifle firing Championships and India in the International Karate Championship among others.
He is an award winning painter, auctioning his works for charity as well as an accomplished singer who used to perform professionally until late medical school. Having been the first Doctor from Kerala and Karnataka to gain entrance for Neurosurgery at the prestigious PGIMER Chandigarh he captured all the laurels there and after this did his fellowship abroad and came back to Mangalore to remain in Father Muller's charitable hospital and Medical College as the head of Neurosurgery.
Being a scientific person he was never into religion or politics. This, as well as family tradition attracted him to the teachings of Shirdi Sai Baba, but only to the service part of it.
It was then that he pioneered Modern Neurosurgery is North Kerala, based in Kannur and became known all over the region, the country and abroad for his brilliant results in Modern Neurosurgery with a 'Never Say Die' attitude. That was the same time at which he also understood 'healing' in the true sense and founded the 'Sri Sai Charitable Foundation' which helped patients in all ways.
When his father Dr. C. K. Bantwal expired suddenly but peacefully, he was entrusted with the additional responsibility of holding the family and its businesses together.
SAICORP belonging to younger brother Shashank Bantwal and youngest brother Mrinal Bantwal's SATRAC are leading manufacturers and exporters of Trailers and farm implements. They are among India's best transport industry companies which regularly win National and Regional awards for innovation and efficiency.
Wife Shobha is his inspiration and strength. She manages the other holdings as well as the hospitality sections. Daughter Anindita is Postgraduate in Art Management at the University of Bologna, Italy and son Gagandeep is an Audio Engineer from Oxford, UK.